Cedar Eaters™ is a company that specializes in land clearing and brush removal using a unique and environmentally friendly approach, co-owned by Pam and Stan Hegener and their son, Spence Hegener.
"We cleaned a friend's ranch up, and it kind of got out through word of mouth that we were cleaning properties up around us in the Hill Country."
How it all started
In 2001, the Hegeners bought a ranch in Texas Hill Country with the idea of spending their retirement there after leaving Louisiana. However, they soon found themselves struggling with brush, particularly cedar, on their own land in Comfort, Texas. Given their experience in the industrial construction field, they were familiar with mulchers, which are commonly used by pipeline contractors for clearing ROW (right-of-way). Pam and Stan decided to purchase a small mulcher for personal use. They began by clearing their own land and later "cleaned a friend's ranch up" through word of mouth, which led to more properties in the Hill Country area. This marked the beginning of Cedar Eaters. Starting with a single small mulching machine, the company now employs around 25 people and owns a fleet of eight machines, seven of which are Tigercat machines. While Spence manages day-to-day operations, Stan and Pam have yet to retire and settle down.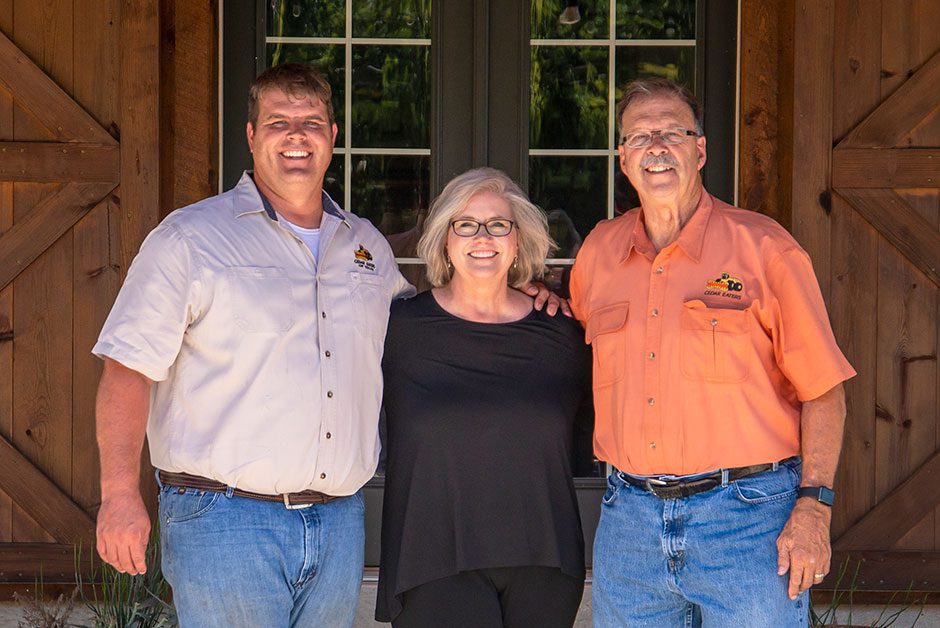 The faces of Cedar Eaters™
L-R: Spence Hegener, co-owner and operations manager; Pam Hegener, C.O.O./majority partner; Stan Hegener, president.
This led to the creation of Cedar Eaters™, which has since become a leading provider of land clearing services in Texas and beyond.
The company specializes in cedar and brush mulching, mesquite grubbing, and hand crew cutting and chipping for residential and commercial properties.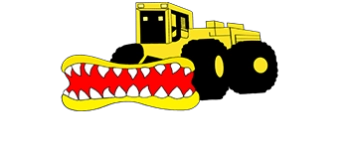 Cedar Eaters operates four Tigercat M726E mulchers with Fecon heads, one 470 track mulcher, and two M726G mulchers equipped with the new Tigercat 4061 head.
Cedar trees are viewed as a bad tree in our neck of the woods
Terrain in the Texas Hill Country is rocky, predominantly consisting of limestone. It's very dry with little topsoil. Unfortunately, the process of turning organic material into topsoil doesn't happen overnight. Formed from the erosion of rocks and decomposition of organic materials and organisms over hundreds of years, it forces landowners to think long term.
"But most of what we do is selective clearing of cedar for ranch owners, because cedar trees are viewed as a bad tree in our neck of the woods," Spence explains.
The long root systems of native grasses help to hold soil in place, preventing ground erosion. Removing cedars using the mulching method not only helps prevent ground erosion, it improves the health of the grasslands and will increase the underground water supply. Instead of water getting sucked up by the tree's root system or evaporating from the tree's canopy, water is filtered through the soil and grass roots and goes back into the water table.
Another very important reason is wildlife diversity. A variety of grasses and other vegetation attracts a wide range of wildlife and promotes a healthy, well-balanced eco-system.
It's not so much that cedar is an undesirable tree – it just requires some maintenance if you don't want it to be the only tree on your property. Spence explains that cedar was once controlled by natural disasters.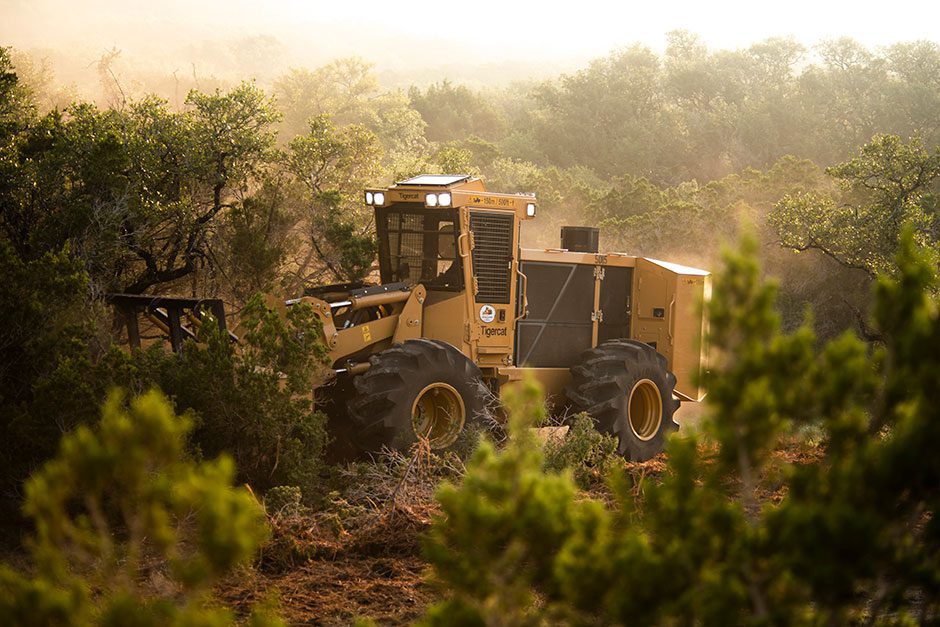 Tigercat M726G
The Tigercat M726G Mulcher tackles brush with ease.
Benefits of mulching
Mulching creates a protective layer over the ground, locking in moisture. It's full of nutrients, creating the ideal environment for native grasses and desirable trees to thrive.
Mulching essentially helps speed up that decomposition process. Conventional methods such as dozing or burning, strip away all organic material with nothing left to decompose. "Basically, cedar trees are very acidic and limestone is an alkaline agent. When the cedar trees are mulched over limestone, it creates an acidic layer over top of it that will break down over time and create new topsoil. You can see this when you look underneath a cedar tree, there's actually more topsoil underneath the tree. Well, that's because the needles are falling down every year, and then it's actually breaking down and creating topsoil. So the concept is, 50 years from now, the property that has been mulched is going to have more topsoil than the guy that goes out there and dozes it." Spence also mentions "the benefit of mulching versus dozing is that the regrowth is considerably less with mulching, because dozing disturbs the ground allowing berries that contain the seeds to be replanted."
Mulching creates a protective layer over the ground, since the machine mostly drives on top of the mulch, leaving much of the land undisturbed. This layer of mulch left behind also locks in moisture. It's full of nutrients, creating the ideal environment for native grasses and desirable trees to thrive. In turn, this helps prevent soil erosion and can also help to improve the water table by preventing evaporation.
By combining cutting-edge technology in mulching with a deep respect for the natural world, the company has established itself as a leader in the field of land clearing and brush removal.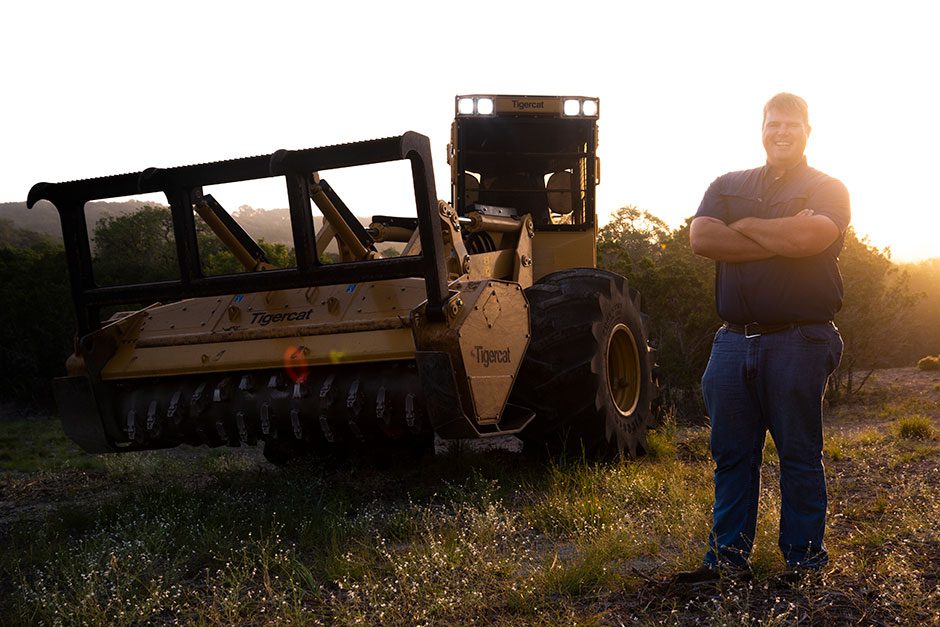 Spence Hegener
Promoting sustainability and environmental responsibility in vegetation management
CALL
210-745-2743 Office
866-472-9119 Fax
877-404-8141 Toll-Free
VISIT (BY APPOINTMENT ONLY)
Office Address
6707 TX-27, Comfort, TX 78013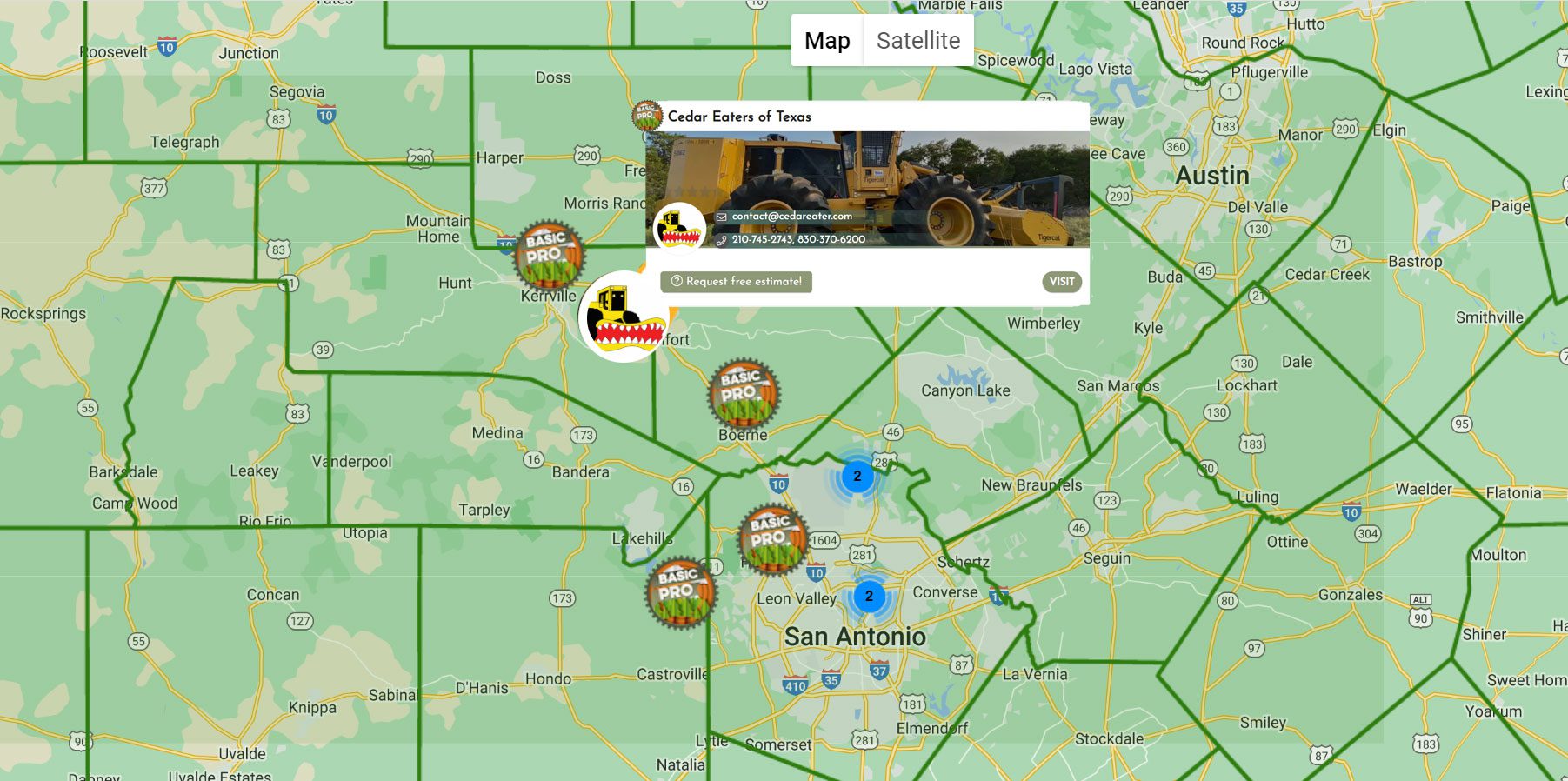 Cedar Eaters™ and WEMULCH are a perfect match
Stan wants to use WEMULCH.COM to extend his reach and to be found by clients and is a verified professional on the platform. WEMULCH will help him and his son Spencer grow online and get more land clearing jobs in Texas.

Cedar Eaters™ and WEMULCH are a perfect match because they share similar values. Their partnership will be a win-win, promoting sustainability and environmental responsibility in vegetation management and land clearing services to end users and clients.
Cedar Eaters™ and WEMULCH are a perfect match